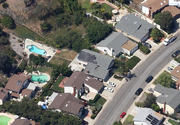 The place where Jojo, Stevie and Tommy lived for a while, also known as "The Machadoses'"
It was the home base of the Inner Circle before we even knew it was the Inner Circle. We still go back there some times too, there were at one point two dogs, and there is still one, so that's nice.
Location of such adventures as:
That crazy party that all the high school kids showed up to, I passed out at like 8pm, but I heard it was great.
That time Brian told all the cow jokes while we played Mario Party, he got on the radio for that don't ya know!
Many family birthday parties, many of which involved the Ghost Buster's Theme Song !
The Pie incident.
That time Ryan or Jojo shot Jason with the BB-Guns. I wasn't there, but it sounded scary.
Remember shooting Steffan's air-soft gun?
It was neat that it was easy to get on the roof from Stevie's room for Fresh Air , yeah, that's right, it's Stevie's room, it'll always be Stevie's room.
Where we went before and after the Mesa Art Class.