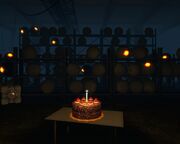 Circa late 2006, when Brian, Matt and Wen lived at the house on Arriba, we came upon a chocolate cake at Vons.
Brian loves chocolate. He's had more than his fair share, and his knowledge has been used for many important things, such as an expert witness on high profile trials and Fox News panels. Chocolate is his life's crusade, second only to Waffles. But on that fateful day at Vons, his life changed forever (also see Chocolate Cupcake Frosting + Pizza = Nom).
On the way to the Beer aisle we passed the bakery. We glanced at the usual pastries and cookies that we passed by every weekend (or was it every night? I don't remember for some reason...). Something shiny caught Brian's eye. Something shiny, and brown. No, Glen wasn't in town. Brian had chanced upon something none of us had ever seen. There was a cake. Cake! We'd seen cakes there before, but this cake was different. This cake had a special name. The actual name of the cake, no hyperbole, verbatim, etched in stone, was "THE MOISTEST CAKE EVER"!
Ever!
Literally!
The Moistest Cake.
Ever.
We bought the cake. Of course.
Moistest Ever! Do you understand the implications? There may NEVER be a cake that is as moist as this cake was. Nothing that preceded it had more moisture infused into the batter. This was the Niagara Falls of cake.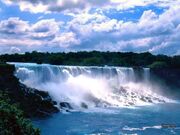 It was so delicious. I won't go further into the description, because sadly, it has not been located since then. It had to be experienced, and nothing I can write will give it its proper due. I think Brian found it a few more times shortly after that, but it has, to our knowledge and thorough research (while walking to the beer aisle), never graced the bakery shelves ever again.
Ever.