H. Jon Benjamin.
H. Jon.
Aich Jawn.
Stevie's Boy H. Jon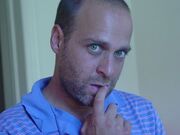 You know the man. You've seen his pretty face on many occassions, whether it's on a Mr. Show bit, Human Giant hit, or yo momma's tit (Oooohhh!!! Booyah! H H H H! Jon Jon Jon Jon!). H. Jon is tearing the nerd world up right now. He's on some of the best current cartoons: Venture Bros., Archer and Bob's Burgers (Watch this damn show, it is great!). His sultry voice has tempted us for decades, with work on Dr. Katz, Home Movies, Family Guy, and the list goes on. To most of us he's "that guy" (which is said like "THAT GUY!!!" with a firm finger pointing at the TV screen). Everyone has heard his voice, even if they can't place a name to his voice, or put a face to his name, or they haven't seen line 18 on his 1040 tax return. Even if we don't really know him, we all love him dearly and he brings joy to our lives. Stevie, on the other hand, is a different story.
H. Jon is Stevie's boy. "That's M'Boy!" (Stevie doesn't change things up very often, see Raynor M'Boy) he says, as he pulls his H. Jon brand snuggie just a little tighter. Stevie is often heard saying, "Me and H. Jon, best pals for life!" as he smacks on some delicious H. Jon Benjamints®. One of Stevie's original dishes is called H. Prawn Benjashrimp on the Barbie. Stevie's H. Jon ceiling poster greets him every morning when he wakes up, and he never washes his H. Jon Benjammin' Reggae Fest t-shirt. Stevie is nuts for the guy. We all think he's swell too.
Ad blocker interference detected!
Wikia is a free-to-use site that makes money from advertising. We have a modified experience for viewers using ad blockers

Wikia is not accessible if you've made further modifications. Remove the custom ad blocker rule(s) and the page will load as expected.