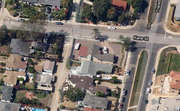 Hey, it's Brian's House! It's near a Jack in the Box that went out of Business, there's a deck, and now there's a Fire Pit out front! That's kinda cool!
Location of Adventures like:
The Endless Setlist
That time we were out on the deck and there was the motorcycle accident on the freeway. Actually, the guy died, that's depressing.
OH! Remember when we had the LAN Party and we made cake after Portal came out. Cake is awesome.
When we walked to the Liquor Locker to buy Champagne after the Charger game where they won in the playoffs against the colts. That was fun, although walking back uphill sucked, luckily we were drunk, so no one noticed.